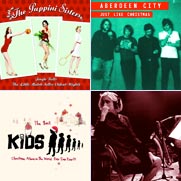 (SPECIAL CHRISTMAS EPISODE!)
We start with some excellent mashups from last years
A Very Bootie Christmas
album (
FREE download!
), which is not only a must-have, but also free making it that much better! It was hard for me to pick what to play from it, but ultimately went with "Are You Gonna Stop the White Xmas" by
Bad Tattoo
and "Christmas in Boston" by
Go Home Productions
. Next we heard two songs from 2 of the 3
Hark! The Filthy Angels Sing
(
FREE download!
) christmas compilations which can also be downloaded in their entirety for free we heard a "Merry Christmas (I Don't Wanna Fight Tonight)" (a
Ramones
cover) by Britain's
Helen Love
and "December Will Be Magic Again" (a
Kate Bush
cover) by
Wojtek Godzisz
also from the UK (a band i would never play if that song weren't completely unlike anything else he's ever shat out). Then California's
The Bird and the Bee
did "Carol of the Bells" a single track released just this year and given away free in
iTunes
for a while. Then TSiMH favorite Norway's
Erlend Øye
did "Last Christmas" a partial
Wham
cover from an out of print compilation called
Seasonal Greetings
(
Amazon
) but is fairly easy to find on the internets. Then UK's
The Puppini Sisters
did "Jingle Bells" from their EP by the same name which came out this year (
iTunes
,
Amazon
). Next was Boston's
Aberdeen City
doing a cover of one of my favorite xmas songs,
Low
's "Just Like Christmas" (
FREE download!
). Then the UK's
KIDS Allstarz
did "Merry Xmas Everybody" (a
Slade
cover), from the record label compilation
The Best KIDS Christmas Album in the World Ever Ever Ever!!!
(
iTunes
,
eMusic
,
Amazon
). And finally, one last free xmas download, this one offered by NYC's own
Nellie McKay
and called "Christmas Dirge" (
FREE download!
).
This episode features clips from National Lampoon's Christmas Vacation (Netflix, Amazon). Other free christmas mashup albums are offered by Boston's DJ BC here and here.