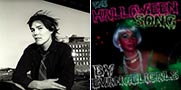 (SPECIAL HALLOWEEN EPISODE!)
First up, a new song from a new band,
The Postmarks
did a cover of
Ministry
's heavy metal classic "Every Day is Halloween" which is available for download on their
MySpace page
for free. But you'll also want to check out their
Remixes
(
iTunes
) EP that has a couple of songs which will be on their debut album due out in January and (if the few songs they've released to date is any evidence) is sure to be grand. Next Melbourne, Australia's
Julian Nation
did "Halloween River Cruise" from his
Jens-Lekman
-esque debut
We Are All Writers
(
Book Club Records' store
). Then ex-
Pogue
Shane MacGowan
and his
Popes
did "Haunted" from
The Snake
(
iTunes
,
Amazon
). Next Long Island's
Blue Oyster Cult
did their classic "(Don't Fear) The Reaper" from
Agents of Fortune
(
iTunes
,
Amazon
) or their greatest hits records (
iTunes
,
Amazon
). Then close personal friend of
TSiMH
Adam Roddick
did his new song, fittingly for halloween called "Late October 2006" which can be downloaded from his
MySpace page
. And finally, Oklahoma's own
Evangelicals
put out a fantastic halloween song this year called "The Halloween Song" which, too, can be downloaded from their
MySpace page
.
There have been 2 other Special Halloween Episodes of TSiMH, you can find them here and here.