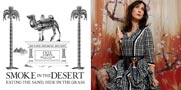 First up, ex-
Concrete
Victoria Bergsman
's new band
Taken By Trees
has released their new album
Open Field
(
iTunes
,
eMusic
,
Amazon
), from which we heard "Hours Pass Like Centuries". Next Brooklyn's own
Les Chauds Lapins
(who do wonderful renditions of French classics) did two songs from their debut album
Parlez-Moi D'amour
(
CD Baby
), we heard "Swing Troubadour" and "Mon Rêve C'etait Vous". Then Berlin's
Stereo Total
did "Baby Revolution" from their recent album
Paris-Berlin
(
iTunes
,
eMusic
,
Amazon
). Next Scotland's indie rock the
1990's
(not to be confused with a band I played a while ago caled
1900's
) did two good songs from their remarkably hit-and-miss debut album
Cookies
(
iTunes
,
eMusic
,
Amazon
). Then Sweden's
Envelopes
did "Smoke in the Desert, Eating the Sand, Hiding in the Grass" from their forthcoming new record, and current single by the same name (
iTunes
,
eMusic
). And finally Brooklyn's
Elizabeth Harper
who I played not too long ago has a new EP
The Covent of the Immaculate Heart
which contains a remix of her fantastic song "Let Me Take You Out" which I played previously. We heard that remix, perhaps consider picking up her self-titled album (
iTunes
).
This episode features clips from CNN's The Situation Room about Bush seeking billions more for his Iraq adventure just after vetoing funding for children's healthcare (watch the whole clip here). And a series of clips from Saturday Night Live's Weekend Update about the latest gay-hating-gay-republican Larry Craig (watch it here).